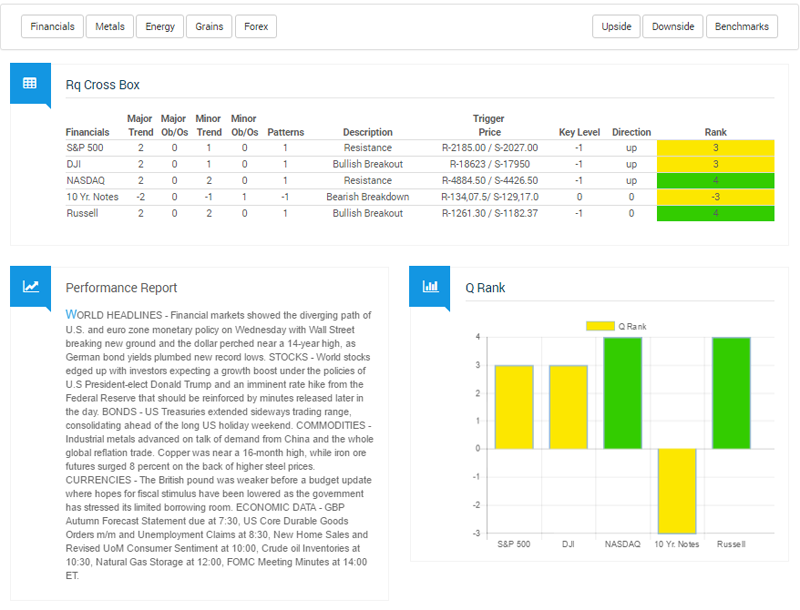 The premier analytical tool built for cross-asset traders and investors. Many trading departments, big and small, are turning to cross-asset trading and investing as the solution to better improve diversification of risk, volatility and ultimately greater returns. The RQ Cross Box is a quantitative analysis and ranking system utilizing multiple disciplines of evaluation including macro economics, sector rotation, fundamental and technical analysis. At the core of the system is our proprietary RQ algorithm designed to interpret historical data in order to reveal predictive future metrics.
Traders, investors, and portfolio managers have found it to be instrumental for:
Cross market analysis
Identifying new trading and investment candidates
Assist in managing risk for active trading and portfolios
Notify of developing new trends and sector shifts
Position sizing tool for multi-asset traders
Asset allocation for investment portfolios
As an overlay to other trading and investment strategies
Our quant universe is composed of over 25 actively traded market instruments which represent a broad range of asset class groups and sectors. Each market is evaluated and assigned a rank rating from QR 10 (most bullish) to QR -10 (most bearish).
The instruments and markets currently tracked are:
Financials – S&P 500, DJIA, Russell, Interest Rates
Metals – Gold, Silver, Copper
Energy – Crude Oil, Natural Gas
Grains – Soy, Corn, Wheat
Forex – usd/jpy,eur/usd,eur/jpy,usd/chf,usd/cad,gbp/usd
Industry Sectors – Retail, Biotech, Transportation, Forest & Paper, Technology, Industrials, Utilities, Financials
Hundreds traders and heads of desks named multi asset trading strategies as their current top priority. Uncover solutions to improving your trading strategies, investment portfolio and find new ideas. We invite you to sign up for a complimentary test drive.
Pump up your trading and investments with the RQ Cross Box.